Christmas Season Celebrations
in Starksboro
December 22nd
Our Annual
Candle Light Service
at 7:30 pm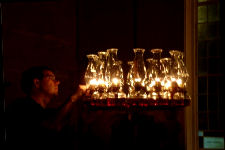 The Christmas Candle Light Service has been a Starksboro Village Meeting House tradition since the 1960's. The service is held in a sanctuary where electric lights are a secondary way to light the space. The primary light source is a kerosene lamp chandelier. The non-denominational service, which centers around the Christmas Story and the popular candle lighting ceremony, is held in a sanctuary where little has changed from when it was last used as an active Church in the early 1900's, offering a nostalgic glimpse into the past.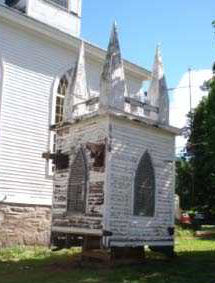 Repairs to the lower level of the belfry have been completed. As part of the work, the upper level of the belfry was removed due to it's condition.
Christmas shopping at home

The Starksboro Village Meeting House is selling Starksboro t-shirts, sweatshirts, woven coverlets with the historic buildings in town, and notecards. All make great Christmas gifts.