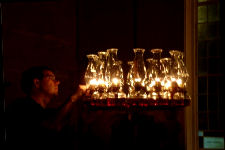 The Christmas Candle Light Service has been a Starksboro Village Meeting House tradition since the 1960's.
The service is held in a sanctuary where electric lights are a secondary way to light the space.
The non-denominational service, which centers around the Christmas Story and the popular candle lighting ceremony, is held in a sanctuary where little has changed from when it was last used as an active Church in the early 1900's, offering a nostalgic glimpse into the past.
It is a Christmas tradition for many area residents.